We are so appreciative of our customers and we love hearing about our customers doing great things. We understand that not everyone who uses our services is running a business; some have hobbies they deeply care about.This brings us to our customer High Octane Racing League (HORL), HighOctaneRacing.net.
Who is HORL?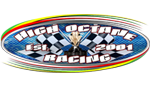 We celebrate HORL's and Elite Hosting USA's anniversary by telling the world about what they do and how we are honored to help them. HORL is an online sim racing league that operates mostly in Rfactor 2. Heath Johnson has become the league owner of HORL and provides unwavering dedication! While Heath has now taken on the role of broadcaster (YouTube Channel) and race facilitator, his contributions to the league and broadcasting has made an impact on sim racing as a whole.
Our Service to HORL
So how do we help? The love and support HORL admins have for their league inspired us to offer Elite Rfactor 2 server packages. Recently HORL held a memorial race for a founding member of HORL, Steve Fries (Broadcast Here). 24 sim racers showed up to battle it out at Michigan International Speedway! 24 drivers is a significant number of drivers. We provide multi-region servers to HORL with enough power to host 120 dedicated servers and host a TeamSpeak server without performance degradation. The race went off without a server hiccup and it ended in a real nail biter!
Outside of sim racing, we also provide HORL managed WordPress services for their website http://highoctaneracing.net. WordPress plans come standard with automated backup and recovery options, as well as built-in security scanning! Elite Hosting USA works tirelessly to ensure HORL can focus on league administration without worrying about the quality connectivity during important races.
What Can We Do For You?
We wish the best for HORL and are excited to see their growth into RFactor 2 and other racing sims! We hope our dedication and appreciation for our customers inspires you, the reader, to join the Elite family! Let us know how we can help you!